Hi there! I am a new member to this forum.
Here's some background:
I have had rescued cats all my life. Mostly foundlings.
My parents care for a colony of feral and abandoned cats out in the country. There are now 15 cats here. All but 3 females are spayed, and we now have an adiitional 2 unnuetered toms that have shown up in the last few weeks.
Most of the cats are foundlings or cats that were clearly owned at one point, but that have been dumped.
All are friendly except the two toms, which I'm pretty sure are straight up feral. They book it at the sight of humans.
Two of the girls just had litters, one last monday and one yesterday. I am also currently bottle feeding a litter of four that were sent my way.
Anyway, between rescuing and raising kittens my entire life, and volunteering at the SPCA for four years, I've seen just about every kind/color/pattern of cat in existance.
However, the kittens born yesterday were something I have never seen before.
All four of them have a weird jacket of mousy grey fur on their backs. One is a brown tabby, the other three are mostly black with white markings and the grey jacket.
The pics I took are terrible, but I found a few pics online of an older cat that has the same coloration.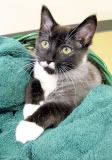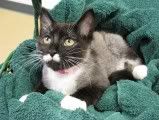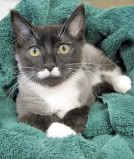 All but one have no tail.
I was wondering if there is anyone who might want one or more of these kittens for a breeding program. They are very unique looking. I'm not looking to make any money off of them, just reimbursement for vetting and shipping if anyone does want them.
I'm not generally into promoting the breeding of "mutt" cats...but it's these unusual mutations that are the proginator of new breeds.
Might also make an interesting addition to a Bengal or Savannah cat program. I dunno. Let me know if you're at all interested or know anyone who might be.