I ran in for just a moment yesterday. Since it was not a usual time for me to come in, none of the cats bothered getting up to greet me and I found them napping on my bed.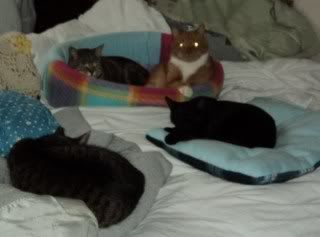 Mazy and Tolly are curled up in the new bed I made them, I've been working on it a while, but finally finished it and they all love it. Queen Eva is curled up on the self warming bed I made her for her Homecoming from her long stay in the hospital. Jennie is curled up in a wool blanket nest she made for herself.
They always love to be close to one another like this.